Resources for The Christmas Journey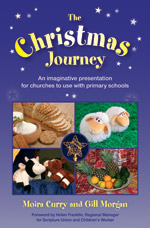 There is lots more information in the book The Christmas Journey by Moira Curry and Gill Morgan, ISBN 9781841016214, published 2009 by BRF, the Bible Reading Fellowship.
Downloadable files on this site are for purchasers of The Christmas Journey book. They are for use only by the original purchaser of a copy of the book and only in a teaching situation.
Scene Scripts
These are all PDF files and between 44kB and 64kB in size. PDF files can be opened with proprietary no-cost software from several suppliers, including Adobe's Acrobat Reader, or by any one of several free software PDF readers.