Resources for The Christmas Journey
Branding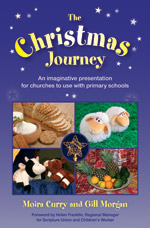 There is lots more information in the book The Christmas Journey by Moira Curry and Gill Morgan, ISBN 9781841016214, published 2009 by BRF, the Bible Reading Fellowship.
Page 36 of the book discusses the importance of a consistent branding. We are happy for people using The Christmas Journey book to stage similar presentations to make use of the logo that we developed. As well as the 22kB JPG version at the head of every page on this web site a download of the Christmas Journey logo is available here as a 175kB JPG file. If you need a different format, please let us know.
We developed the branding from the materials provided by SGM Lifewords, in particular the Meet the Cast booklet and the Church resource downloads on SGM's dedicated Christmas site.
The photograph below shows examples of the use of the logo and styles on external advertisements and window decoration