Resources for The Christmas Journey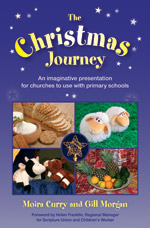 There is lots more information in the book The Christmas Journey by Moira Curry and Gill Morgan, ISBN 9781841016214, published 2009 by BRF, the Bible Reading Fellowship.
Downloadable files on this site are for purchasers of The Christmas Journey book. They are for use only by the original purchaser of a copy of the book and only in a teaching situation.
Sample safety assessment
As discussed on page 42 of The Christmas Journey book, this PDF file has a
Sample risk assessment from one of the Frodsham Christmas Journey events
.