The Scenes
The Stable
Four eye-catching animal puppets recounted the story of what had just happened in the stable that night. The family were portrayed by a simple model crib scene.
The animal's script was recorded onto CD so that puppeteers mimed the words. This facilitated a rota of puppeteers. The script was amusing and created characters for the animals.
You can listen to the script used in 2006 by downloading either the Ogg version or the MP3 version (each of these files is about 1.5MB).


This work is licensed under a Creative Commons Attribution-Noncommercial-No Derivative Works 3.0 License. A similar script is available to read after the photos.
In the stable with the four animal puppets: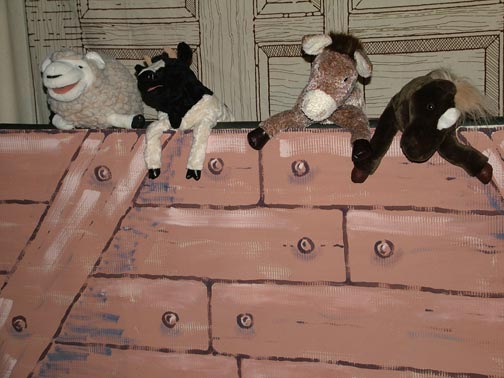 Animal puppets: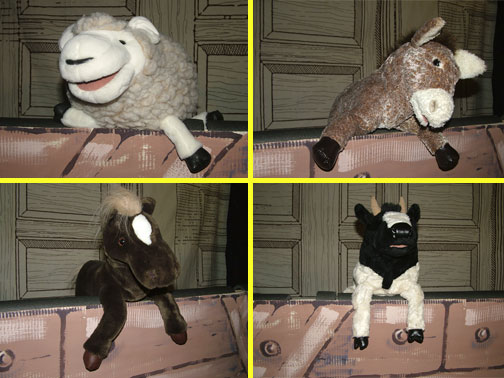 The animals and their puppeteers: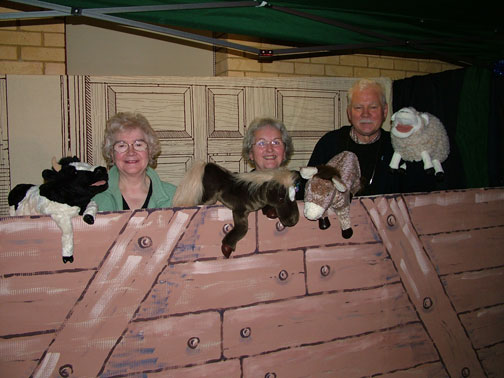 ... or back to the top of this page
... or read the script ...
Christmas Journey Stable Script
Horse: fast talking. Opinionated, like a gossiping 'neigh'bour. Looks to donkey for agreement.
Sheep: a bit flirty, slightly posh ..... (or as posh as a sheep can get).
Donkey: the same one that brought Joseph and Mary, a tired donkey who speaks little.
Cow: very considerate and caring.
Start with animals looking tired and slightly sleepy.
H . . . Who's this lot coming into our lowly cattle shed now?
S . . . Oooh I don't know, probably more visitors to see where a mother laid her baby, in our manger for his bed.
C . . . Let's have a look what we have now. There's been school children and grown ups, teachers and bus drivers.
H . . . It was peaceful before, wasn't it!
D . . . Aye
H . . . Until late last night. We'd all gone to bed and it was nice and peaceful ..... a silent night. Then the door crashed open and since then it's been like a city centre. First they brought you in (to donkey)
D . . . Aye
H . . . Now we're used to visiting donkeys, horses and other animals in the stable, so you weren't a surprise, we did our best to make you welcome.
D . . . Aye
C . . . Then they brought the others in.
H . . . Your family weren't they? You'd carried them here, all the way from Nazareth.
D . . . Aye.
S . . . The Inn Keeper's wife brought them in, the girl and her man, brought them to my stall and said they should sleep with me, as my stall was the cleanest in the stable (looks smug).
H . . . You could tell she was pregnant of course, I could tell straight away. Far to young in my opinion. You know what .... I don't think they were married either, she never mentioned her mother, only her cousin! And as for him, he hardly said a word as if he had nothing to do with it all. Times have changed haven't they, and family values? Wouldn't have happened when I was young.
D . . . Aye
S . . . So they settle down on my clean straw, people in my stall.
C . . . Yes, and then just when we'd all settled down to go to sleep, the wee girl starts to shout.
S . . . It was nothing to do with me!
C . . . She was shouting at the man, desperate shouts saying that, "Her time had come."
S . . . The poor man goes running off to get help. The door crashes open, again, and help comes. There was so much noise I had to get out of my stall.
H . . . The man was no use, just stood there looking worried. Kept saying he knows about joints and woodgrain, but not about childbirth.
D . . . Aye
C . . . Then the baby was born. Didn't he make a noise until his mother comforted him. She had no nappies and no cot or anything, so she wrapped him in a cloth and (interrupted)
S . . . used our manger, our food trough for a cot for the baby.
C . . . Well she couldn't have put him on the floor, it was cold, the earth stood hard as iron, and water like a stone ...... there was no crib for a bed, she had to find somewhere to lay down his sweet head.
S . . . I know, but I still don't like having to eat off the floor.
H . . . Then all the helpers left and I hoped we could go back to everything in the little town of Bethlehem lying still. But no ..... it was like there was a new light, a big light, left on over our stable.
D . . . Aye
H . . . It was dark all around, but seemed to be light just where we all were, it was strange, like, "in the dark streets shineth an everlasting light."
D . . . (long pause, quizzical look at horse .... ) Aye
C . . . Then the door opens again and there were a bunch of shepherds.
H . . . I wish they'd had a wash before they came.
S . . . I wished they'd brought their sheep with them, I could do with meeting some nice sheep.
C . . . Said they'd come down off the hillside in the dark just to see the baby.
S . . . I don't like walking on the hillsides anytime, and certainly not in the dark.
H . . . When they saw the baby in the food trough, wrapped in cloth bands, they were soooh excited. They said it was a sign. I thought they'd had too much mint beer again.
D . . . Aye
H . . . Kept saying a light had appeared in the sky and an angel told them not to be afraid, and "today in the town of David a saviour has been born to you; He is Christ the Lord." Then the angel said they would know it was true because he would have no baby clothes and no cot, but would be wrapped in cloth in a feeding trough. Definitely too much mint beer.
D . . . Aye
C . . . Then they said a while lot of angels from the realms of glory appeared, saying "Glory to God in the highest, and on earth peace to men on whom His favour rests."
H . . . Definitely too much mint sauce ... sorry beer!
D . . . Aye
S . . . (pause) I know shepherds look after us sheep, but when they sleep rough on a hillside, in the bleak mid winter, they smell worse than a dead wolf. Why couldn't the angels have told someone posh?
C . . . Like who?
S . . . Someone different, why not .... Mystical men from the east, who travel on camels, wear rich coloured clothes and bring exotic gifts, And smell nice?
H . . . Oh people like that wouldn't believe what they were told, even by an angel. They'd need a sign to follow, something in the sky or stars. People like that wouldn't come, some people will never believe what they are told.
D . . . Aye
C . . . Then when the shepherds left they just couldn't stay quiet or keep still. They were stunned, excited, clueless and rough, but they went praising God that what they had heard and seen, was just as the angels had told them.
S . . . They must have spread the word, told everyone what they had seen.
H . . . Yes, since then we've had nothing but people, people, people. Children, grown ups, old, young.........
S . . . Posh people and business people, people on their way home from a night out in their best clothes..........
C . . . And people who have nowhere to live and smell even worse then the shepherds.
H . . . I wonder how long people will come, seeking this baby .... What did they call him? Jesus?
D . . . Aye ............, Jesus!